Official Ultra Installers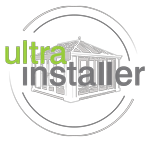 As accepted members of the Ultraframe Ultra Installer Scheme we are proud to be one of the few firms in the UK who can boast this accreditation. This scheme is one of the very few services across the UK to carry out rigorous company checks and training prior to being accepted onto this approved scheme which aims to give clients the best products and service in the country as this scheme was set up to recognise those traders that provide a high standard of service to their customers, treat them fairly and have all the correct processes and procedures in place.
For your peace of mind, every Ultra Installer has been inspected by Ultraframe the biggest and best supplier of roof components in the country.
Ultraframe assess the quality of installation practices and Which? Trusted Traders assess consumer service standards.
What is and why get the Ultraroof 380
The "380" in Ultraroof380 refers to the box beam which is its most important component. The box beam is 380mm wide and runs around the perimeter of the roof sitting on window frames and walls. This box beam gives the Ultraroof 380 its super strength, so strong that it never needs an unsightly tie bar ever.
The Ultraroof380: Enjoy Your Conservatory Year-Round
Enjoy the benefits of a solid and glass roof all at once by replacing your existing conservatory roof with the Ultraroof380. Its hybrid design allows for the inclusion of numerous glass panels or Velux windows – the choice of where these glass panels are added is yours entirely and, either way, you'll benefit from fantastic light penetration into your new room space.
Maintaining an optimum temperature in your conservatory is easy with the Ultraroof380. Its thermally efficient design means that it traps warm air where it is most needed during those colder autumn and winter months while preventing your room from overheating during summer when the sun is at its absolute peak.
The UltraRoof380 is light in weight, too. This is important because its design enables it to overcome obstacles typically presented by planning permission and building regulation rules. Because the UltraRoof380 has also been JHAI approved, you'll be able to instruct your Ultra Installer to proceed with peace of mind.